How to Prepare for Aabracadabra Chem-Dry Appointment
WEDNESDAY, MAY 29, 2019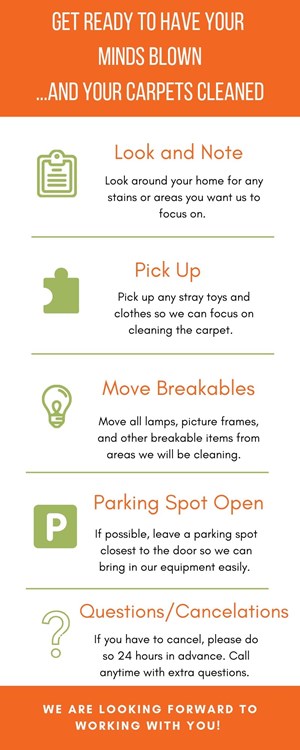 Is your carpet cleaning appointment coming up soon? Great! We are here to help you prepare.
First, simply make note of problem areas that you would like Aabracadabra Chem-Dry to focus on. We want to make sure we meet and exceed all your expectations.
Next, pick up any stray toys and clothes so cleaning carpet can be the focus. Also, removing breakables from the cleaning areas is very helpful. Clearing the area of toys and breakables allows us to get in and out of your Puyallup home quickly and efficiently. 
Aabracadabra Chem-Dry has a lot of equipment to pull into your home for proper carpet cleaning. It is helpful to have a parking spot near the door way of the home to easily transfer all the equipment inside. We want to provide the best cleaning possible for you. All these steps will smooth out the cleaning process.
For more detailed questions or requests, please feel free to call (253) 446-7071. 
..
.
.
BACK TO BLOGS